Issue No. 260
Facebook: Golden Green Association.
Send items for inclusion to Anne Waddingham (gghamlet@outlook.com) or Alec Pelmore (alecpelmore@btinternet.com)
Mission Hall bookings
The GG hall is now available for bookings. Contact Rob Seall 1 Bell Cottages 850664 r.seall@gmail.com.
The Golden Green Summer Fete
The Golden Green Summer Fete was a huge success, better than we dared hoped. The sun did shine and I've never seen so many heats of the egg and spoon race! It was really good to see so many families with young children enjoying all the activities; and as a bonus we raised over £1300 for the GGA; which will partly help fund the village hall.
Thanks to all who stepped up to help and to everyone who attended and gave generously.
The clouds rolled by but the rain (mostly) missed us!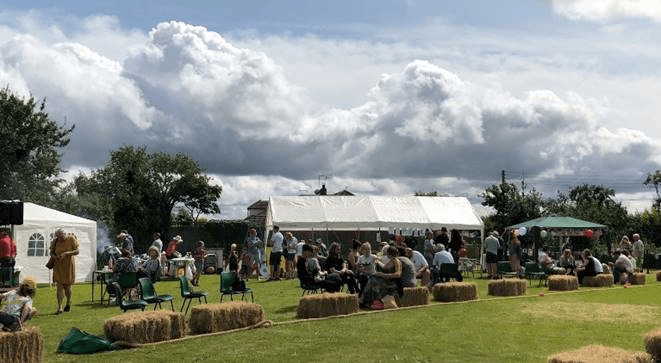 Macmillan Coffee
Bring cakes, buy cakes … for a good cause. Come to the Macmillan coffee on Thursday 23rd September at 10.30am at the Bell. Anybody prepared to help with organising would be appreciated.
Coffee Morning/Meet Tom Tugendhat MP
Friday 17 September 10.30am–12 noon Hartlake Barn, Hartlake Rd, GG TN11 0BL.
To book a place, call Jane Rogers 07803 249267 or email gjanerogers@aol.com.
Organised by the East Peckham & Golden Green Branch of the Tonbridge, Edenbridge & Malling Conservative Association.
The Bell News
Clare, Justin & Nigel
Tel: 07940 250644
Email: queensowntaverns@hotmail.com
Facebook: The Bell – Golden Green
Burgers and cocktails every Friday night.
The Jeff Wood(stock) Music Festival last month – in memory of GG's late resident Jeff Wood – was a truly memorable night, raising over £2000 for the Alzheimer's Society. The Bell would like to thank all who attended for their patronage and for their generosity in supporting the event.
The Beardy Cup
Sunday 29 August from 2pm
Nomination whist at The Bell. In memory of Simon Dunn, raising funds for Hospice in the Weald.
Walk Tonbridge Family Fun Day
Sunday 19 September 11am–4pm
As part of the Walk Tonbridge Festival, there's a Family Fun Day at The Bell raising money for charity Sustain. Bouncy castle, face painting, WWI living-history group The Queens Own Royal West Kent Regiment, live music and burger van.
Visit the Walk Tonbridge Festival website.
Coffee Gathering
Alec and Pat cannot be there for the next two Thursdays, so no Coffee gathering on 5th/12th September. We resume on 19th ….. 10.30am in the Bell courtyard – a free coffee for all residents! Bring your own mug.
Bernie's Quiz Night @ The Bell
Monday 13 September 8pm
£3 entrance fee, cash prize. Bernie McGawley sets the questions. All welcome.
Golden Green WI
15 September from 7.30pm Mission Hall, GG
Talk: "The Roaring Twenties" by Delia Taylor
For further information about Golden Green WI, contact Ros Seall, 1 Bell Cottages 01732 850664 –  goldengreen@wkfwi.org.uk
Golden Green Association's 250 Club
August winners
136 Lesley Bright
228 Chrissie Vidler
229 Lyn Fuller
Royal British Legion Poppy Appeal 2021
House-to-house collections are going ahead as usual this year, so we are hoping that this year's Poppy Appeal will see our fantastic volunteer collectors out and about in Hadlow and GG once again, subject to any future Covid-19 restrictions. We'll be in contact with our 'regulars' over the next few weeks to find out if you're able to help. We don't want anyone to feel obligated, however, if you don't feel comfortable with going house-to-house. But we're always on the lookout for new volunteers, so if you'd like to get involved contact Sean or Anne on 01732 850048.
Singing Mamas
Thursday 16 September 10–11.30am GG venue tbc
Join Singing Mamas on Thursday mornings 10–11.30am, starting 16 September. Bring your babies, toddlers and home-ed children and sing with an inspiring group of women. Singers, shy-singers and non-singers all welcome. For more details email hello@lauralamn.com or visit www.lauralamn.com/Singingmamas
Ride+Stride
Saturday 11 September
The annual Friends of Kent Churches sponsored cycle ride raises money to help preserve and maintain Kent churches. To sponsor or participate, contact Rob Seall 01732 850664. Rob Seall is looking for sponsors for this year's Ride+Stride.
Tonbridge U3A Open Day
Wednesday 6 October from 2pm Angel Centre, Tonbridge
Meet group leaders particularly if you are a new member. We would also love members to become group leaders. The more groups we have then the more activities we can offer the membership. Remember TU3A is run for the membership by the members.
St Mary's Church, Hadlow
St Mary's website >>
St Mary's Facebook page >>
Office: office@stmaryshadlow.org.uk , Tel: 07570 941809 (Tues 9.30am-3pm; Thu 8.30am-2pm)
Vicar: Revd Paul White, Tel: 01732 850238, Email: pauljohnwhite@gmail.com
Services
Please see the St Mary's website or Hadlow newsletter for details.
St Mary's Food Bank
The Church is open for private prayer and for the Food Bank on Wednesdays from 10.30am–12.30pm.
Hadlow Parish Council
clerk@hadlowpc.co.uk or 01732 851878
Hadlow Parish Council website >>
facebook.com/HadlowParishCouncil
Twitter @HadlowParish
Next Parish Council Meeting 13 September 7.30pm Old School Hall, Hadlow.
Golden Green Parish Councillors
Nick Collins: 850968 – nicolins@btinternet.com
Ed Bright: 850590 – ed.bright@talk21.com
Hospital Transport Service
Residents of Hadlow & Golden Green who need help to get to clinic appointments can contact Mike Harvey (tel 01732 851881, mob 07464 548448).
Compiled by Alec Pelmore and Anne Waddingham © 202160